20 September 2016
HANJIN SHIPPING UPDATE - HANJIN MILANO REMAINS OUTSIDE TERRITORIAL WATERS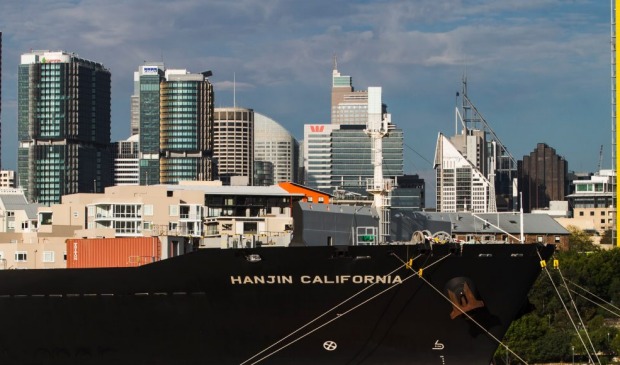 As reported by the Wall Street Journal today, a South Korean bankruptcy court on Monday ordered Hanjin Shipping Co. to return the ships that it charters back to their owners and to sell as many of its own fleet as soon as possible, in the strongest signal yet that the debt-ridden Korean carrier will be either liquidated or turned into a much smaller company.
Here in Australia, TCF have received numerous notifications from various sources confirming that the Hanjin Milano (4,253 TEU vessel) will remain outside territorial waters off the port of Melbourne whilst it awaits further direction from its Korean head office.
ABC Radio interview with Paul Zalai (Director Freight & Trade Alliance) – 19th Sept 2016
https://www.youtube.com/watch?v=3BdmUUvlLZk&feature=youtu.be
With a real lack of confidence now showing by Australian stevedores, handling charges are now being charged by local stevedores, in a cost recovery exercise, before Hanjin containers will be released at the ports. These charges are in addition to normal local port charges invoices by the carrier (a copy of one such advice from DP World is attached).
Additionally, contact with Hanjin in Australia has progressively become more difficult with phones and emails going unanswered. TCF has visited the Sydney office of Hanjin now on a number of occasions in order to obtain answers to our queries, obtain Delivery Orders (EDO's) and request return of container bond charges paid for the release of containers. It is evident that whilst remaining courteous and wherever possible light hearted, Hanjin staff are preparing to complete their tasks and vacate their positions, with rumours surfacing that the offices may close in the coming weeks. Understandably many of the Hanjin office staff appear to be concerned for their own entitlements and well-being.
The US Journal of Commerce (JOC) reported this week that an Australian Federal Judge, Steven Rares, had ordered Hanjin to file and service and affidavit on its position regarding the payment of Crew wages and other entitlements and to outline what arrangements had been made for their welfare. With the Hanjin California now arrested for the second time late last week, the Hanjin Milano looks certain to face the same fate when and if it docks at the port of Melbourne. Globally, as of Wednesday last week, 36 ships remained at seas, 37 vessels have yet to unload their containers and are preparing to return to South Korea, and 24 ships have managed to offload their cargo.
Below are some links with further recently published articles.
TCF will continue to monitor the situation and provide details to our customers that have cargo currently on board Hanjin vessels as more information comes to hand.
Should you require further information, please contact your local TCF Customer Service representative.
https://www.lloydslistaustralia.com.au/lla/market-sectors/containers-and-container-shipping/HANJIN-CRISIS-no-change-on-Hanjin-Milano-537149.html
http://www.dpworldaustralia.com.au/news-and-media/latest-news/hanjin-container-handling-arrangements/
http://www.wsj.com/articles/hanjin-unloads-more-cargo-easing-supply-chain-fears-1474259710
News Archives
Industry News
Read the latest news from TCF International.
Copyright © 2021 TCF International All rights reserved